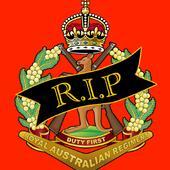 FUNERAL DETAILS – 2192240 ROBIN LESLIE JOHN MARTIN – 4RAR
Rob's funeral service is to be held on the Gold Coast
The Service is to be held on Wednesday the 15 November 2023 at 1pm at Integrity Funerals, 18 Tonga Pl Parkwood.
As background info: Rob was Platoon Commander 12 Pl Delta Coy in the early 1970s and then took up the position of Battalion Assistant Adjutant prior to our Second Tour of SVN.
The funeral is going to be live streamed at:
To open Live Stream our members, go to the main page of Integrity Funerals at www.integrityfunerals.com.au
Scroll down to the heading Live Streaming and click on that then, Click on Rob Martin and enter the PIN Code of 4024
If any problems Andrew Ramsey Funeral Coordinator is contactable on 0755764545.
Condolences may be sent to his daughter at the following:
Email: [email protected]
Sincerely
Wendy M McLean J.P.(Qual) LM
Secretary/Membership Officer
4RAR Association Qld. Inc.'