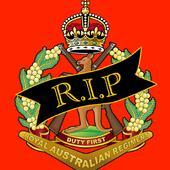 VALE 2192240 ROBIN (Rob) LESLIE JOHN MARTIN – 4RAR
We have been advised by Robin's daughter that he passed away on Wednesday 25/10/2023. A service will be held in November to commemorate him with those details to be forthcoming.
Please forward any correspondence or queries to his daughter Dana Martin at Email:[email protected] Rob was assistant adjutant on 2nd tour.
Sincerely
Wendy M McLean J.P.(Qual) LM
Secretary/Membership Officer
4RAR Association Qld. Inc.'