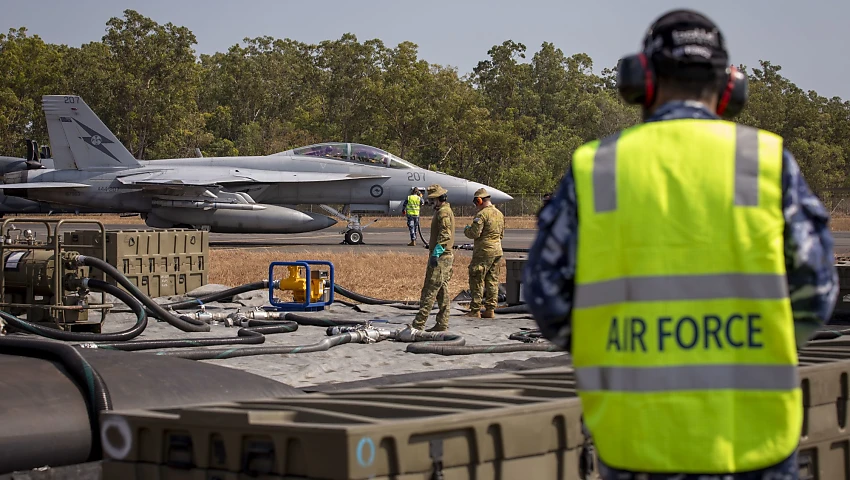 A new US-funded fuel facility has been completed at RAAF Base Darwin.
Picture: A Royal Australian Air Force aviator from Combat Support Group watches as a Hot Refuel is conducted on a F/A-18F Super Hornet aircraft during Exercise Talisman Sabre 23 at RAAF Base Darwin. Photo: LAC Chris Tsakisiris
Valued at $76 million, the project was overseen by the United States Naval Facilities Engineering Systems Command Pacific and constructed by the US-Australian joint venture Nova Nacap JV. The facility, finished in June 2023, enhances operational capabilities and supports training exercises, promoting air cooperation between the two nations under the United States Force Posture Initiatives (USFPI) infrastructure program.
The Enhanced Air Cooperation (EAC) initiative, established in February 2017, aims to deepen air-to-air integration through a range of activities. It includes advanced warfighting capabilities, collaborative airbase operations, combat support, logistics, and regional engagement. EAC creates opportunities for joint engagement with regional partner air forces in training exercises.
The project aligns with the government's response to the Defence Strategic Review, which prioritizes increasing preparedness, enhancing northern infrastructure, and providing resilient fuel solutions. The review also underscores the importance of the Australian Defence Force's ability to operate from northern bases.
In line with the Defence Strategic Review's recommendations, the Australian Army will focus on long-range strike capability and littoral operations in northern land and maritime areas. Meanwhile, the Royal Australian Air Force will support operations in the north, with improvements planned for northern air bases, including runway and apron capacity, fuel supply, storage, accommodation, and security enhancements.