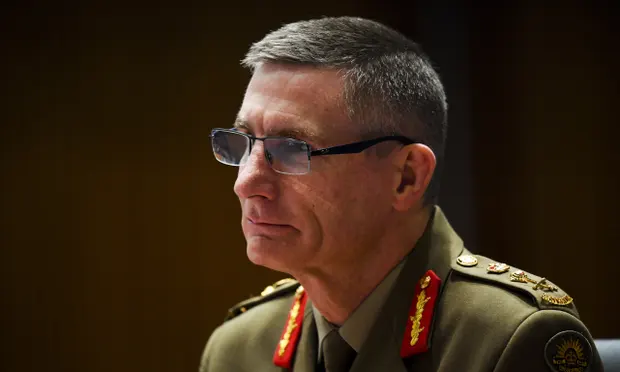 Army Leadership's Distinguished Medals Questioned Over Legitimacy
Veterans have unearthed potential evidence suggesting possible mismanagement and "systematic abuse" of the Australian honours and awards system, which might have led to the incorrect bestowing of "distinguished service" medals upon senior officers for several years. This list includes the present Defence Force Chief, General Angus Campbell.
These revelations came after some veterans, already upset about the potential stripping of Afghanistan war medals due to alleged misdeeds, decided to delve deep into the legitimacy of the awards conferred upon their top-ranking officers.
Newly accessed documents and communications suggest that since 1996, the Defence Department had been aware of Distinguished Service Crosses (DSCs) being possibly wrongfully awarded to senior officers who weren't actively serving "in action."
The veterans are specifically concerned about the DSCs and other accolades given to the leaders of Joint Task Force 663 (CJTF), the central command for Australia's Middle East operations during the Afghanistan conflict.
A former Special Forces operative, referred to as "Marty" for anonymity purposes related to his current job, remarked on the gravity of their findings. "This issue requires immediate attention," he expressed. He emphasized that they're not against recognitions but want the criteria to be appropriate and not just serve as mere attendance badges.
The concerned group reached out to Defence Minister Richard Marles this year, urging him to instruct the Defence Honours and Awards Appeals Tribunal (DHAAT) to investigate the matter surrounding the DSC and related awards.
The group's letter in May highlighted the crucial role CJTFs played in guiding Australian troops in Afghanistan. "Considering the DSC's stature as a distinguished military award, it's pivotal to ensure the process for its conferral remains transparent and unimpeachable," the letter noted.
In 2012, Defence Chief General Angus Campbell was honoured with a DSC for his outstanding command during his tenure with Joint Task Force 633. Recent reports suggest he tried, albeit unsuccessfully, to return his DSC after facing pressure in a parliamentary session earlier this year.
Concerns about these awards are prevalent throughout the military, with both active and retired members voicing their apprehensions about medals seemingly being given out as mere tokens of attendance.
Neil James, Executive Director of the Australia Defence Association, calls for a comprehensive DHAAT review concerning the standards, criteria, and procedures of awarding honours. "It's essential to differentiate between temporary and permanent units, ensuring that revoking any commendation remains precise, transparent, and is not misconstrued," he commented.
On being questioned during a Japan visit, Defence Minister Marles chose to withhold his comments, mentioning that they're currently addressing various issues related to decorations and awards.