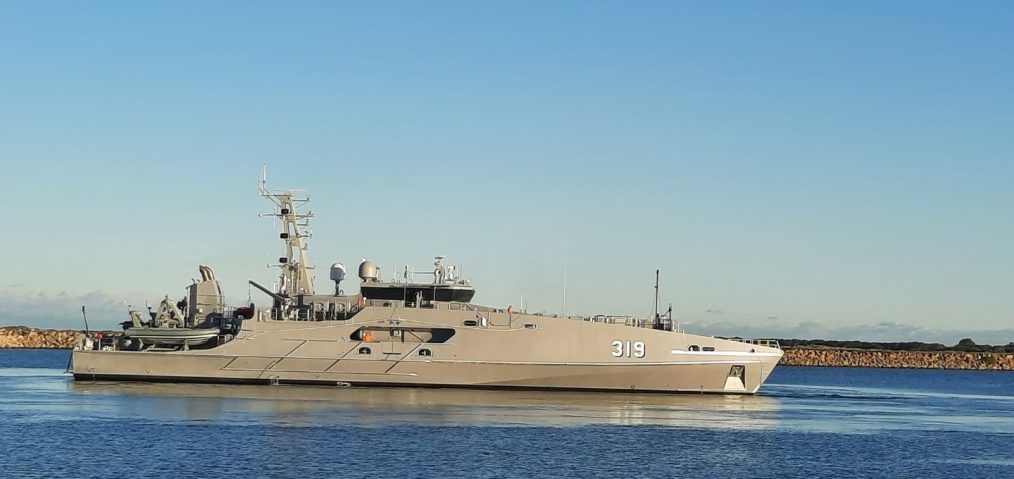 Austal Australia Presents 6th Cape-Class Patrol Boat to the Royal Australian Navy
Picture: Evolved Cape-class Patrol Boat, ADV Cape Pillar (319), to the Royal Australian Navy. (Photo: Austal)
Austal Limited has proudly confirmed that its Australian branch has handed over the sixth out of eight Evolved Cape-class Patrol Boats (ECCPB's) to the Royal Australian Navy. The boat, named ADV Cape Pillar, was formally received by the Commonwealth of Australia at Austal's shipyard in Henderson, Western Australia.
Paddy Gregg, the CEO of Austal Limited, emphasized that this marks the third ECCPB provided to the Royal Australian Navy just in CY2023. This showcases Australian shipbuilding's commendable proficiency. He stated, "Working closely with the Department of Defence, the Royal Australian Navy, and our esteemed supply chain associates, the Austal Australia team exemplifies the prowess of the National Naval Shipbuilding Enterprise in ensuring sovereign capability for Australia."
He added, "In a span slightly over 18 months, Austal has delivered six ECCPBs, essentially enhancing the Royal Australian Navy's capabilities every quarter." Austal anticipates completing and delivering the last two ECCPBs, currently under construction in Henderson, in 2024. This will round off the fleet of eight boats, fortifying Australia's maritime defense.
The ambitious project to create these 58-meter aluminium patrol boats for the Navy began in May 2020. The previous five boats, named Cape Otway, Cape Peron, Cape Naturaliste, Cape Capricorn, and Cape Woolamai, were successfully delivered by March 2022.
These evolved boats boast expanded facilities that can host up to 32 individuals. They also feature enhanced living systems and progressive sustainment intelligence mechanisms, amplifying the Navy's sea combat capabilities. These patrol boats, crucial to Australia's security apparatus, will be deployed for diverse naval tasks and constabulary missions.
Currently, Austal Australia directly employs around 400 individuals in Western Australia and collaborates with over 300 local supply chain partners to achieve the ECCPB Project (SEA1445-1) for the Navy. Austal also ensures in-service support for different patrol boat fleets, working with entities like the Australian Border Force and various Pacific Island countries, through their dedicated centers in Henderson, Cairns, and Darwin.
Furthermore, Austal Australia has committed to supplying 22 steel Guardian-class Patrol Boats to the Commonwealth of Australia under another project, SEA3036-1. Since 2018, 17 of these boats have already been delivered.