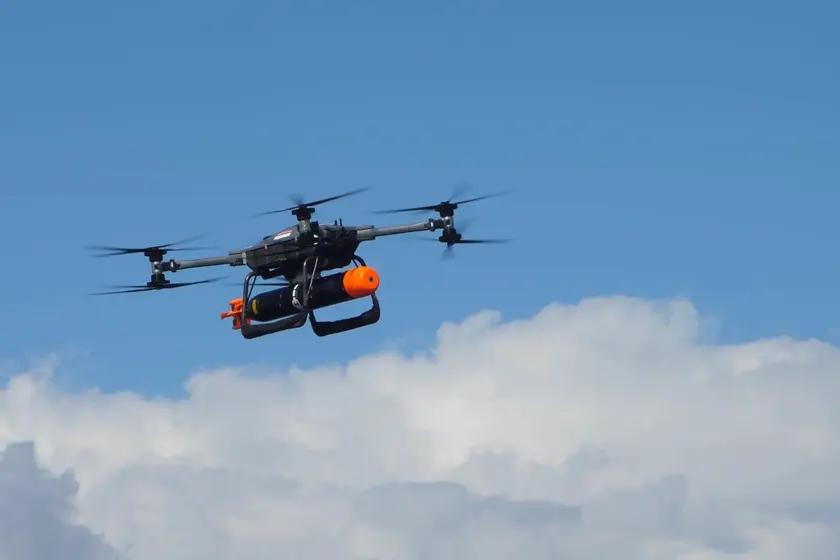 BSE Systems Demonstrates T600 in World First.
Pictures provided by BSE Systems
In a groundbreaking development during a recent NATO exercise off Portugal's coast, naval drone technology witnessed an unprecedented evolution. The BAE Systems/Malloy Aeronautics T-600 heavy lift Uncrewed Air System (UAS) successfully air-launched an inert Sting Ray training torpedo, marking a significant leap in naval drone applications.
Around the globe, major naval forces have been consistently investing in and observing the development of aerial drones. As these machines grow in sophistication, they're being designed to fulfill diverse roles. This not only enables them to seamlessly integrate into more specialized tasks but also allows human resources to be allocated to more critical operations.
This particular test was part of NATO's Robotic Experimentation and Prototyping with Maritime Uncrewed Systems (REPMUS) 2023 exercise. A series of demonstrations were presented for delegates from NATO member countries as well as from non-member nations like Ireland and Sweden.

The standout moment was undoubtedly the release of the Sting Ray training model of the anti-submarine torpedo from the T-600 drone. This marked the inaugural instance of an anti-submarine weapon being released by a drone in a maritime mission. The goal of this exercise was twofold: it was an opportunity to showcase the T-600's prowess in anti-submarine warfare, and it also demonstrated the drone's versatility. Its potential roles span from automated logistics and resupply missions to casualty evacuation. One of the most compelling features is the T-600's minimal environmental impact, made all the more impressive by the fact that it operates without human pilots.
BAE Systems has disclosed that this technological feat with the T-600 is merely a stepping stone towards their next venture, the T-650. This upcoming model is set to be an all-electric heavy lift UAS equipped with rapid reconfiguration features tailored for various applications, including military, commercial, and humanitarian missions.
Reflecting on the swift progress, Neil Appleton, Head of Sustainable Electric Products at BAE Systems Air, remarked, "In a mere two-year span following the commencement of our partnership with Malloy, we've rolled out a heavy lift UAS. Moreover, in collaboration with the UK Royal Navy and the Portuguese Navy, we've actively participated in the latest NATO REPMUS exercise. This demonstration was a spectacular opportunity to exhibit the prowess of our T-600 technology demonstrator, as it successfully carried an inert Sting Ray torpedo in the presence of some of the world's most elite naval forces."