Building connection and camaraderie across Australia
A message from Mates4Mates
Mates4Mates is one of Australia's leading veteran charities, actively changing lives for current and ex-serving ADF members, and their families, who are impacted by service.
Almost 10,000 veterans and family members have directly benefited from Mates4Mates services since it was first established by RSL Queensland in 2013.
At Mates4Mates, we know support looks different for everyone, which is why we are committed to providing many pathways to recovery for those impacted by service. This includes mental health and physical rehabilitation services, skills and wellbeing programs, and social connection activities.
In 2023, the Mates4Mates Veteran & Family Wellbeing Centre was opened in Stuart Park, Northern Territory with the help of a $5 million grant from the Department of Veterans' Affairs as part of the expansion of their Veterans' and Families Hubs.
This centre in the Northern Territory joins other Mates4Mates centres located in North Queensland, South East Queensland and Tasmania.
Mates4Mates also provides services in outreach locations around Australia, and online, to support veterans and family members who are unable to attend face-to-face services as a result of distance, illness or injury.
Knowing the power of mateship and camaraderie, Mates4Mates holds regular social connection activities in each of our locations and online, helping to provide a safe space for veterans and family members.
These activities, like all Mates4Mates services, are free and include weekly BBQs, coffee catch ups, hikes and walks, creative art workshops, and unique experiences, all dedicated to supporting veterans, partners and families who may be feeling socially disconnected.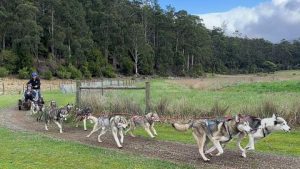 Recently, our Tasmanian 'Mates' went on the ride of a lifetime with an adventurous day of dog sledding at Lonnavale. For the attending veterans and family members, this experience provided a great opportunity to get outside, broaden social circles, and try something new – and the feedback was overwhelmingly positive.
Social connection activities like this one help to build a supportive community for Defence personnel and their families. The community of Mates across Australia and online encourage one another to get involved, offer peer-support and develop a sense of camaraderie that many are searching for.
If you're a veteran or family member and want to find out more about how Mates4Mates can support your mental, physical or social health, reach out to us on 1300 4 MATES (62 837) for a confidential chat or visit our website: mates4mates.org.