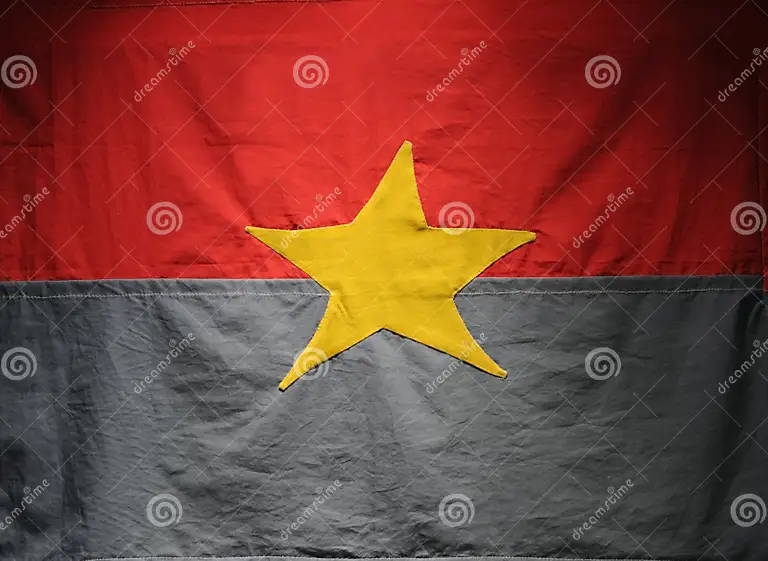 Clumsy Communist Plagiarism
The History of the Armed Forces of Châu Duc District (1945-2014), 2014 – is a very professional and glossy publication. It includes several photographs – however some are "mislabelled" – such as below:
"Australian troops recovering the body of a comrade"
That photograph however is a "cropped" copy of the renown US "Agony of War" photograph.  ie of US troops (4th Battalion/503rd Regiment/173d Airborne Brigade) taken on 14 August 1966 by PFC Paul Epley during Operation Toledo south of Gia Ray in Long Khánh Province (vic YS 791932). The "un-cropped" photograph is below: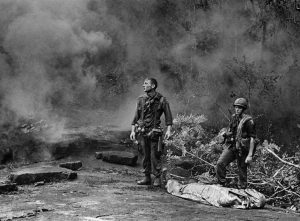 US "Agony of War" (full photograph) – 173d Airborne Brigade, 14 August 1966 
Right to left: SP4 Ruediger Richter, PFC Daryl R. Corfman (in the poncho/body-bag), and SGT D.E. Spencer. (see the 173d Airborne Brigade Operation Toledo report at US Defense Technical
Information Centre – Report AD510789).
Note however, that the photograph is correctly captioned by communist historians: as "173d Airborne Brigade" troops in Trần Văn Khánh (et al/đtg) and: Ban Chấp Hành Đảng bộ tỉnh Bà Rịa-Vũng Tàu (Executive Committee of the Bà Rịa-Vũng Tàu Party), Lịch sử Đảng bộ tỉnh Bà Rịa-Vũng Tàu 1930 – 1975 (The History of the Party in Bà Rịa-Vũng Tàu Province 1930-1975), Nhà Xuất bản Chính trị Quốc gia (National Political Publishing House), Hà Nội, 2000.
 The VC Châu Đức District covered the "western-half"- and some of the north-eastern part, of the Saigon 
Government's Phước Tuy Province. If readers would like a complimentary copy of the research note: 
"Communist Views of the 1st Australian Task Force (2020, 2023) – 101 pages with maps and photographs, 
email Ernie Chamberlain @ [email protected].