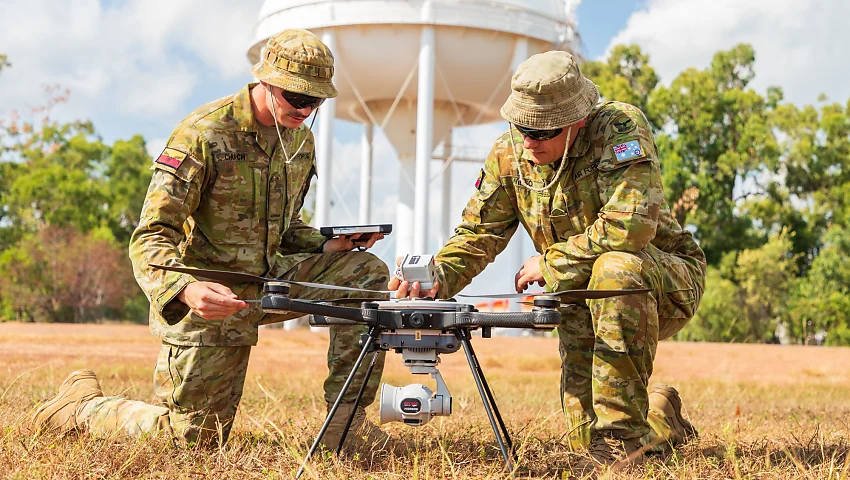 Drones for Tactical Troop Supply Under Development
At the RAAF Base Darwin in the Northern Territory, Air Force Security Aircraftman Joshua Church and Airfield Defence Guard Leading Aircraftman David Wilson from No. 2 Security Forces Squadron recently performed a post-flight check of the Sky Ranger R70 Unmanned Aerial System. Photo credit goes to LAC Sam Price.
The Australian Defence Force is paving the way for drones to deliver ammunition and supplies to their troops. Following a series of successful presentations at the Army Innovation Day, contracts have been granted this August to develop these tactical drones.
Jabiru Aircraft, a renowned aircraft producer from Queensland, has been tasked with creating a medium-lift quadcopter powered by a four-cylinder petrol engine. This drone aims to carry loads of up to 50 kilograms. Simultaneously, Queensland's Crystalaid Manufacture has been entrusted with developing a more potent eight-rotor turbine-driven UAV capable of lifting over 800 kilograms.
Jabiru's design, described by their executive director Michael Halloran, features two primary coaxial rotors and four smaller side rotors. These drones can grip onto cargo, transport it for up to 150 kilometers, and then release it. However, there's flexibility in the design, allowing for an extended range by reducing the payload and carrying more fuel.
Halloran emphasized the design's cost-effectiveness and automation capabilities. He shared that the drone would be able to navigate autonomously between waypoints designated by operators.
On the other hand, Crystalaid's design emphasizes durability. Director Ross McKinnon pointed out that the drone's redundant systems would enable it to remain airborne even after sustaining damage, including loss of rotors. The innovative design maintains stability and avoids tilting during motion, which is crucial when transporting sensitive cargo or injured soldiers. McKinnon highlighted the goal for soldiers to easily request supply drops through mobile devices even in communication-congested zones.
Both Jabiru and Crystalaid are set to showcase their innovations to the Defence department by the end of 2024. Meanwhile, another contender, ACT's Geodrones, is slated to present their hybrid-powered heavy-lift drone, which can transport a staggering 1,000 kilograms, in early 2025. Geodrones CEO Glenn Alcock mentioned that their design would be instrumental in moving heavy cargo, including ship-to-shore operations. Their concept focuses on a quiet descent, powered solely by electricity. A demonstration with the Army is projected for roughly 18 months from now.