Ernie Chamberlain Comments.
I've added some comments this morning to the item by Ross Eastgate yesterday – in which I referred to the remarkable service of Captain Ivan Cahill with the US Marines including in the Khe Sanh area.
Also, Some brief comments of possible interest on Hue, Khe Sanh, and Hamburger Hill.
Regarding "Australian involvement" in the Battle of Hue and the Khe Sanh battles, apparently some supporting 2 Sqn (RAAF) missions were flown and some RAN off-shore gunfire may have been involved – but I don't have that detail readily to hand.
Regarding "Hamburger Hill" (Hill 937) – 13-20 May 1969 (Operation Apache Snow), located about two kilometres from the Viet-Lao border, I don't believe that any Australian ground forces/advisors were involved or associated with Operation Apache Snow – but I could be wrong.
Regarding AATTV personnel at the Battle of Hue in February 1968, the Australian Army Journal (No. 237, February 1967, p.4) cites: "At the time, eleven AATTV members were stationed in the Hue area, or were to become involved in the battle."
No doubt, some AATTV personnel may have visited the Khe Sanh area during the War. More specifically, Captain Ivan Cahill's remarkable time as a staff officer/company (+) commander with the US Marines in Military Region I is related in an article at: https://s3-ap-southeast-1.amazonaws.com/rslnewsletters/pdf/2014/2014-06.pdf – that includes:
"Thus, during his last week with the battalion, Cahill commanded a force consisting of two rifle companies (one from his own battalion and one "on loan" from the 1st Battalion, 9th Marine Regiment), as well as the direct support artillery battery, a platoon each of tanks, 81 mm mortars, 4.2-inch mortars, 106mm recoilless rifles and various other attachments; well over 500 Marines in all. During that period, he was responsible for a four-mile stretch of Route 9 near Khe Sanh and an area of operations encompassing some 40 square miles north and south of the highway. While Captain Cahill's time with the Marines eventually came to an end in May 1968, today he still speaks with great pride of what he terms "the great honour of having led Marines." "
PS. Ivan Cahill introduced Australian slouch-hats to his company – see the photograph.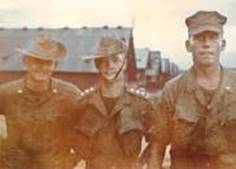 photo – Ivan Cahill  (centre) even had some of his troops in slouch hats !
And – separately, in early September 1968, HQ AATTV directed "approval for Australian advisors to accompany their ARVN units into the DMZ, providing that they do not cross the border" – ie into the North.
Regards, Ernie