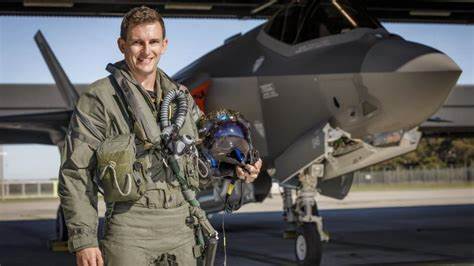 From Groundwork to Sky High: The Journey of Flight Lieutenant Ross Bowman
RAAF Base Williamtown saw Flight Lieutenant Ross Bowman take to the skies in the F-35 A Lightning II for a majestic display at the Central Coast Airshow 2022 in Warnervale, NSW. Photo courtesy of Corporal Craig Barrett.
The RAAF School of Technical Training (RAAFSTT) played an instrumental role in shaping Flight Lieutenant Ross Bowman's illustrious career, offering him a deep dive into the Air Force's operational mechanics. "RAAFSTT was the launchpad for technicians, setting them up for success in their squadrons," mentioned Lieutenant Bowman. "I gained a nuanced understanding of the Air Force's junior ranks, which has undoubtedly enhanced my capabilities as an officer."
Hailing from Dunedoo, NSW, Flight Lieutenant Bowman began his journey in 2005, undergoing Initial Military Training at RAAF Base Edinburgh. Later, he headed to RAAF Base Wagga, honing his craft as an aircraft technician at RAAFSTT. "In my role as an ATECH, often dubbed a 'black hander', I delved into everything that could stain our hands – be it hydraulics, fuel, or engines," he recounted.
His dedication saw him spend half a decade at the 2 Operational Conversion Unit (2OCU), maintaining the Classic Hornet and concurrently chasing his aspiration to fly. Upon earning his 'wings', Lieutenant Bowman dedicated three years to the 'Mighty Magpies' (75 Squadron), followed by an 18-month stint in the US mastering the F-35A and training both Australian and US cadets. "Coming back home, I briefly joined the 3 Squadron. Now, I've circled back to 2OCU, but as a mentor," he shared. He went on to say, "Watching a rookie fighter pilot don their squadron badges, the pride they feel is palpable."
Lieutenant Bowman expressed his awe at piloting the F-35A. "Soaring over the waters on Australia Day 2022, cruising at staggering speeds near the Sydney Harbour Bridge, is a memory etched in my heart," he remarked. Yet, what he cherishes most is his deployment on Operation Okra. "It wasn't just the thrill of flying but the gleam in the technicians' eyes, knowing our collective efforts culminated in mission success."
Bowman's journey had its share of hurdles. "I faced rejection the first time I applied as a pilot. Yet, it paved the way for a career I hadn't envisioned," he revealed. Gratitude runs deep for Bowman, who believes his milestones owe much to his family's unwavering backing. "My wife has been my anchor. Her support has been pivotal to my achievements," he said. His counsel to aspirants? "The Air Force journey is replete with golden chances. Seize them when they come your way."