HMAS Hobart's Renovation: 'The Green Ghost' Revamped
The HMAS Hobart, fondly referred to as 'the green ghost', has been given an extensive renovation both internally and externally. This update marks a historic moment, making the ship the first of its kind – a Hobart-class guided missile destroyer – to undergo a docking selected restricted availability (DSRA) as a component of its routine maintenance and use cycle.
This rigorous maintenance phase took 20 weeks of consistent work, accounting for approximately 180,000 work hours. The process involved 3,800 isolations, opening 76 tanks, and issuing over 1,300 hot work permits.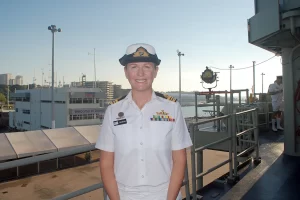 On September 25, the Commanding Officer of the Hobart, Commander Tina Brown, addressed the ship's personnel and representatives of the destroyer enterprise. She expressed gratitude and acknowledged the immense planning, coordination, and execution efforts that went into the DSRA.
Commander Brown highlighted the intricate understanding of the system, resource allocation, and problem-solving capabilities required for a successful docking. "The remarkable results showcased the unmatched professionalism and expertise of both our technical sailors and our industry collaborators," she remarked. She further added that the robust collaboration amongst enterprise partners truly embodied the "One Defence" principles.
Going forward, HMAS Hobart will shift its focus to meet force generation objectives, using the Sea Release Assurance Framework as a guide. The ship's seaworthiness and combat readiness will be closely evaluated, ensuring it is primed for assignments in 2024.