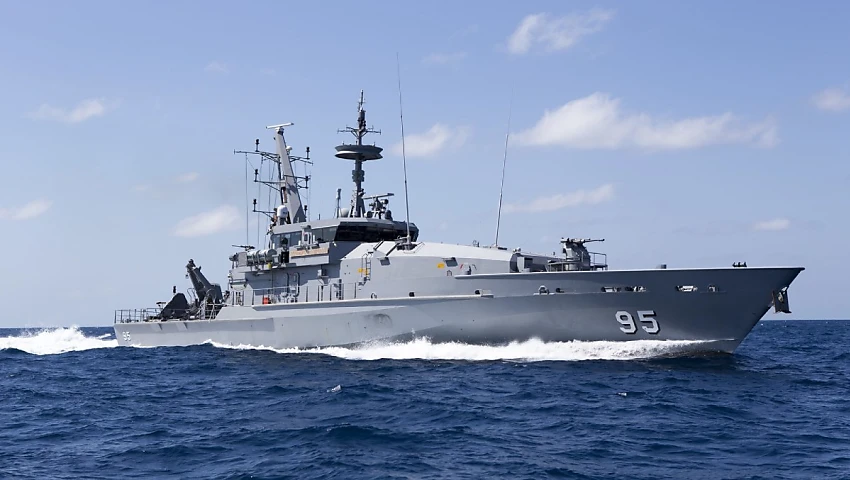 HMAS Maryborough II Prepares for Decommissioning After 15 Years
Image Caption: HMAS Maryborough II (Source: LSIS James McDougall).
The Royal Australian Navy's Armidale Class patrol vessel, HMAS Maryborough II, is set to be decommissioned later this month in Queensland, marking the end of its 15-year tenure.
Constructed by Austral, the 56.8-meter HMAS Maryborough II is currently journeying through the Fraser Coast Region, making stops at Bundaberg and its namesake city, Maryborough in Queensland. This tour precedes its scheduled decommissioning on 28 September 2023.
The vessel first joined the fleet in December 2007, playing integral roles in missions like Operation Sovereign Borders, and aiding in fisheries surveillance, immigration checks, customs procedures, and collaborating with the Australian Border Force in drug law enforcement.
With a top speed of 25 knots, the ship can cover a distance of 5,556 kilometers at a steady 12 knots. It houses a team of 21 crew members and boasts impressive armaments, including a 25mm Rafael M242 Bushmaster, a pair of 12.7mm machine guns, and advanced electronic countermeasures, as well as surface search and navigational radar.
In a touching gesture as part of its farewell tour, over 1,600 individuals were invited onboard HMAS Maryborough on 10 September during an open day event held at the Gold Coast. Attendees got the chance to explore the ship, witness weapon and boarding demonstrations, familiarize themselves with the damage control firefighting apparatus, and even experience a ride on one of its two 7.2m jet rigid hull inflatable boats.
Reflecting on the significance of the event, Midshipman Jackson Marsh, a sailor from Maryborough, remarked, "Having the public onboard to commemorate the legacy and service of the Maryborough was an extraordinary honor, one I'm deeply proud to have been a part of."
Drawing inspiration from its predecessor, the HMAS Maryborough II was named in homage to the original HMAS Maryborough, a minesweeper constructed in 1941 during the thick of World War II. The original ship earned battle distinctions in the Pacific (1942), the Indian Ocean (1942–44), and Sicily (1943), before its eventual decommissioning in 1945.