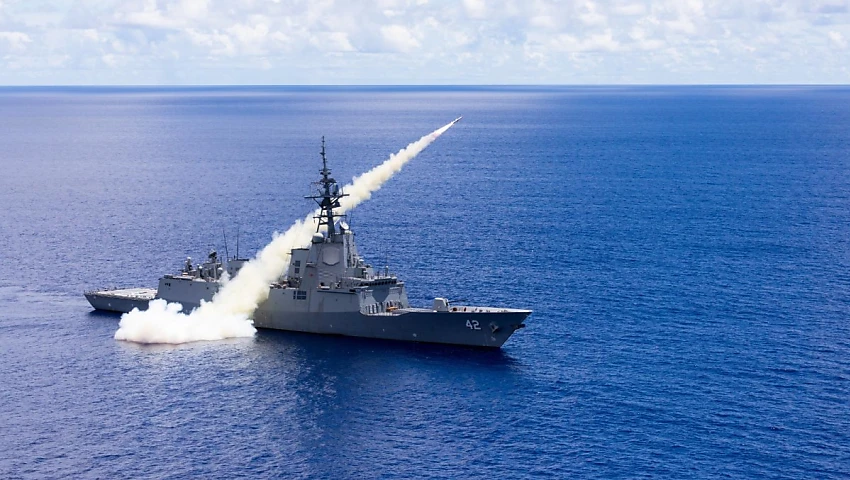 HMAS Sydney Achieves Land Target Strike During Exercise
During the Exercise Pacific Vanguard 22, HMAS Sydney, the Royal Australian Navy's Hobart Class guided missile destroyer (DDG), marked its first-ever land target hit using a Harpoon surface-to-surface missile. Photo: Defence.
Navantia Australia has reported successful and timely achievements for the SEA 4000 Phase 6 Hobart Class Guided Missile Destroyer Combat Systems Modernisation initiative. The company, a subsidiary of the Spanish state-owned Navantia, has been responsible for designing platform systems for the project. They have revealed the integration of an updated Aegis Weapon System under Baseline 9, Tomahawk Weapon System, and the Saab Australian Interface into the Hobart Class missile destroyers.
In collaboration with Lockheed Martin Australia and Saab Australia, Navantia is on its way to finalize a functional design for the said initiative. Israel Lozano, Navantia Australia's managing director, shared expansion plans of the Navantia crew in Adelaide. This move aims to bolster the Osborne Shipyard's shift to production.
Highlighting the partnership's success, Lozano remarked, "This milestone showcases the harmonious collaboration between the Australian defence sector and Defence, paving the way for the Navy's future capabilities."
The firm has previously submitted engineering blueprints from the DDG Phase 6 functional design stage to the Commonwealth. This submission, made in early August, consisted of a comprehensive Technical Data Pack. It encompasses over 100 technical documents, detailed engineering drafts, reports, analytical documents, and 3D visualizations.
Currently, efforts have shifted to the design phase for construction, with activities set to span throughout 2024.