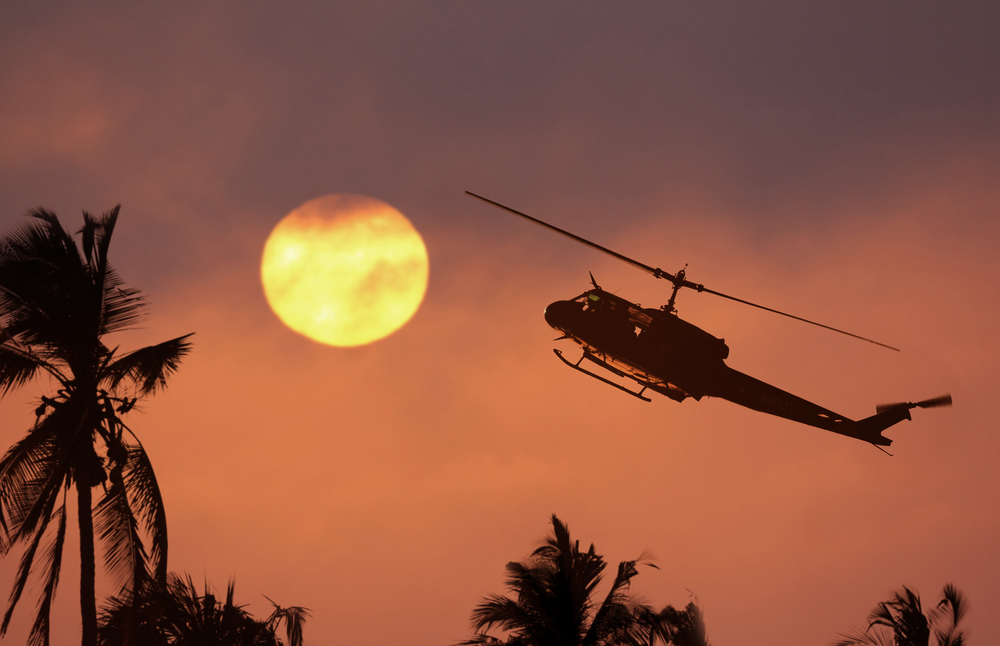 Life of a Door Gunner | Vietnam vet 'Vic' Smith | RAAF 9 Squadron
On 6 June 1966, eight Iroquois helicopters, belonging to the 9 Squadron of the Royal Australian Air Force (RAAF), made their descent on the Vung Tau airbase in Vietnam. The Bell UH-1B Iroquois, commonly known as the "Huey", became an emblematic figure of the Vietnam War. For the subsequent five and a half years, these Hueys of the 9 Squadron backed the 1st Australian Task Force (1ATF).
Previously, during World War II, 9 Squadron had been involved in maritime operations. It was later resurrected in 1962 at the Fairbairn air base near Canberra. Alongside 5 Squadron, which had been operating in Malaysia since 1964, they were the RAAF's primary helicopter squadrons. The initial assumption in March 1966 was that, when a helicopter squadron was designated for Vietnam, it would constitute a new flight unit, mirroring the setup of RAAF Transport Flight Vietnam with its Caribou aircraft. But it was later clarified that the entire 9 Squadron would be deployed to Vietnam, while 5 Squadron would head back to Australia. This led to a restructure at Fairbairn.
In an interesting reshuffle, on 12 April, 9 Squadron transitioned to 5 Squadron. The then-existing 5 Squadron was rebranded as 5 Squadron Detachment C until its disbandment on 29 April. The separate 9 Squadron contingents in Williamtown, NSW, and Darwin were renamed as offshoots of 5 Squadron. Miraculously, 9 Squadron was resurrected on 13 April, adopting eight Iroquois from 5 Squadron. Throughout the war, these two squadrons remained intertwined. Personnel would initially train with 5 Squadron in Australia and subsequently serve in Vietnam under 9 Squadron. 9 Squadron's journey to Vietnam involved both sea and air, with helicopters and their crews being ferried by the HMAS Sydney, and other personnel traveling via a Qantas chartered flight.
Once stationed at Vung Tau, their primary duty was to facilitate 1ATF by shuttling troops and delivering vital supplies like ammunition, water, and food to units in combat zones. If the Viet Cong (VC) compromised or blocked the Vung Tau-Nui Dat roadway, the squadron partnered with 35 Squadron for resupply operations.
Their missions were multifaceted, including deploying Special Air Service patrols, rescuing injured soldiers, distributing herbicides and pesticides, disseminating leaflets, and executing "people sniffer" recon missions. They played a vital role in all major Australian operations, with a staggering 237,424 missions to their credit. It's worth noting that from July 1967 to November 1971, the squadron also had 16 officers from the Royal New Zealand Air Force in its ranks.
Despite their commendable reputation and synergy with the army, the early months witnessed some friction, primarily because the air force couldn't match the army's anticipations. The Hueys lacked armour, and crews were deprived of flak jackets (which were eventually sourced from American forces). Relations took a positive turn post the Battle of Long Tan in August, marked by the valiant efforts of two squadron helicopters which delivered ammo to Australian forces amid challenging conditions.
By 1968, the squadron's fleet expanded to 16 Hueys. Four were later adapted into "Bushranger" gunships, equipped with twin 7.62-millimetre mini-guns, rocket launchers, and door-mounted M60 machine-guns, providing pivotal cover and support for landing zones.
Concluding their esteemed service, 9 Squadron executed their final mission on 19 November 1971. The following month saw their 16 Iroquois depart Vung Tau, eventually landing on the HMAS Sydney, marking their journey back home.
Top of Form
Bottom of Form