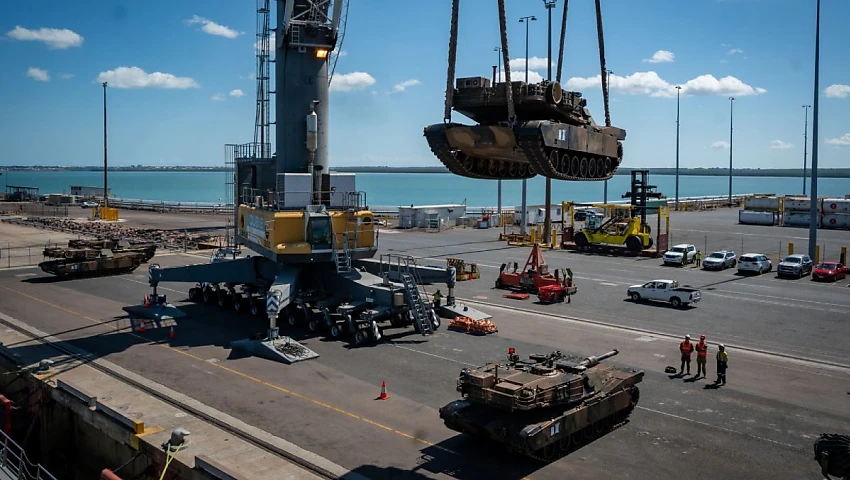 Port of Darwin Review
Picture: An Australian Army M1A1 Abrams Tank is loaded onto the USAV SSGT. Robert T. Kuroda at the Port of Darwin, NT, ahead of sailing to Indonesia for Exercise Super Garuda Shield 23. Photo: CAPT Annie Richardson
Australia has decided not to alter or cancel the lease of the Port of Darwin held by Chinese-owned Landbridge, following a national security review. The review, initiated after the 2022 election, has concluded that the existing regulatory framework for critical infrastructure is robust, ongoing monitoring measures are sufficient, and there is no need to modify or terminate the lease. Additionally, the review examined previous findings and risk management arrangements aimed at safeguarding national security interests.
Prime Minister Anthony Albanese is visiting Beijing, marking the 50th anniversary of the first Australian Prime Minister's visit to China. During the trip, discussions will encompass economic ties, climate change, and people-to-people connections. Notably, both Australia and China have agreed to suspend a WTO dispute regarding wine duties while a review is conducted over the next five months, with the possibility of resuming the dispute if the duties remain in place. The Prime Minister views the visit as a positive step toward a stable and constructive relationship between the two nations.
The review was carried out by the Department of the Prime Minister and Cabinet in collaboration with various government departments, including Defence, Foreign Affairs and Trade, the Attorney-General's Department, Home Affairs, the Office of National Intelligence, and the Australian Security Intelligence Organisation.