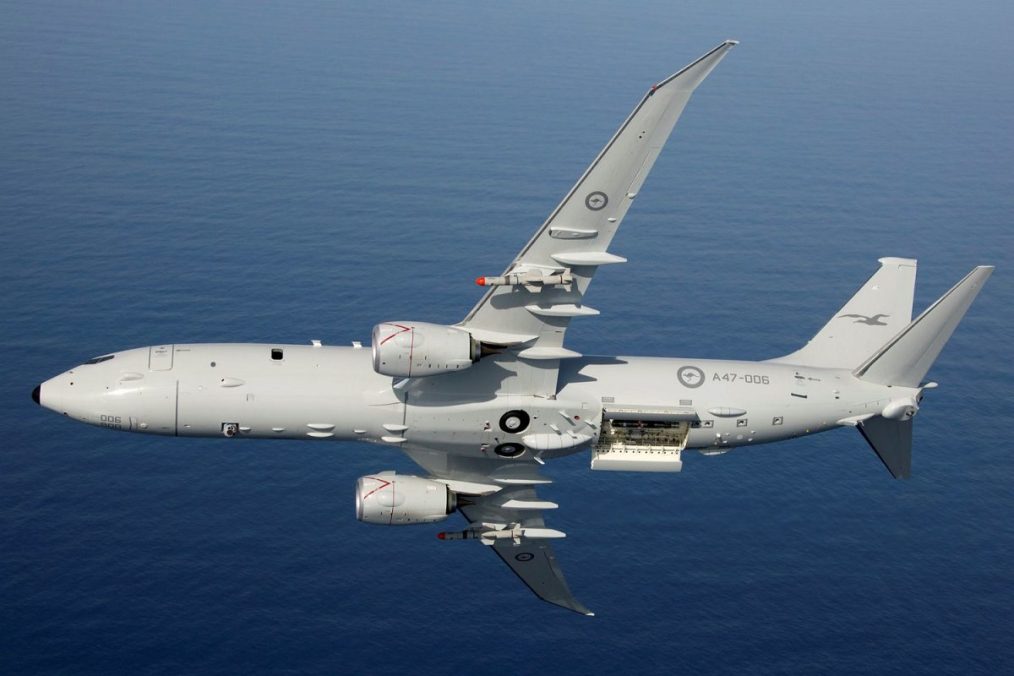 RAAF's Boeing P-8A Poseidon Aircraft Set for Significant Upgrade
Picture Caption: RAAF P-8A Poseidon showcases two Harpoon anti-ship missiles and sea mines visible in its weapons bay. Image Credit: ADF.
The Royal Australian Air Force (RAAF) has announced plans to upgrade its 14 Boeing P-8A Poseidon maritime patrol aircraft to align with the latest US Navy standards.
Scheduled under the initiative "project AIR 7000 Phase 2C" in 2026, this enhancement aims to update the aircraft to the latest Increment 3 Block 2 configuration. Defence Industry Minister Pat Conroy emphasized the significance of these upgrades, stating they would "strengthen our capacity to safeguard Australia's maritime domains."
Having partnered with the US Navy in 2012 for the P-8A's developmental program, the RAAF has contributed notably to the aircraft's evolution. Notably, an Australian contribution includes a Search and Rescue kit – a life raft with essential supplies that can be dropped from the aircraft's weapons bay to aid distressed vessels.
Since 2016, the P-8A Poseidon succeeded the iconic Lockheed AP-3C Orion, which had diligently served the maritime patrol and anti-submarine duties since the 1980s. Though two AP-3Cs still remain active, they're undergoing modifications for specialized electronic intelligence missions. By 2024, four Gulfstream/L3Harris MC-55A Peregrines are expected to replace them.
Currently, RAAF's P-8As operate from RAAF Edinburgh near Adelaide and are managed by the No 11 (operational) Squadron and No 292 (training) Squadron.
Born from the commercial Boeing 737 airliner, the P-8A fuses the 737-800's body with the 737-900ER's wings. This hybrid features a weapons bay, multiple weapon mounting points, mid-air refueling capabilities, and advanced sensor and communication apparatus. Besides its primary anti-submarine mission, the P-8A is versatile, capable of anti-ship operations, search and rescue, and expansive maritime and terrestrial intelligence, surveillance, and reconnaissance (ISR) roles.
Through their developmental partnership, the RAAF ensures that their P-8As remain consistent with US Navy configurations. This harmony enables seamless operations when both forces collaborate and streamlines spare part procurement and maintenance.
The upcoming Increment 3 upgrade introduces the Lockheed Martin AGM-158C long-range anti-ship missile (LRASM), secured under Project AIR 3023 Phase 1. This enhancement will further improve the aircraft's anti-submarine prowess, acoustic sensors, and data communication systems.
Though the US Navy began integrating the LRASM with the P-8A in 2020, it remains unclear if test flights or weapon launches have been conducted.
Finally, the RAAF is set to harness all three AGM-158 missile variants. The AGM-158A JASSM with a 400km range was previously equipped on the retired F/A-18A-B classic Hornet jets. The 800km-range AGM-158B JASSM-ER is chosen for the F/A-18F Super Hornets, while the LRASM, boasting over 900km range, will be outfitted on Super Hornets, the F-35A, and now, the P-8A Poseidon.