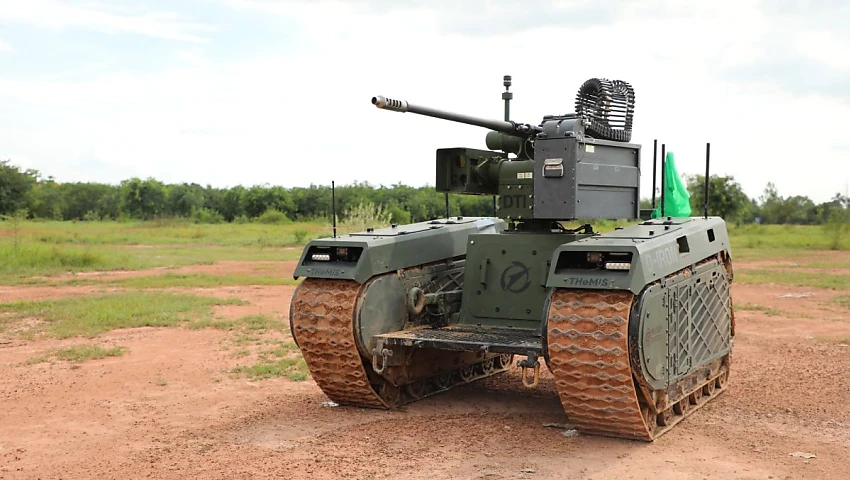 Royal Thai Army trials robotic combat vehicles
Picture: Defense Technology Institute of Thailand
The Royal Thai Army is currently testing the D-Iron robotic combat vehicles, marking a significant step towards unmanned ground vehicles' mass production. The recent trial, a joint effort between the Defense Technology Institute (DTI) of Thailand and the Army, took place in Saraburi province. During these tests, the vehicle's capability to navigate inclined terrains, traverse water, and adapt to different landforms was examined.
Furthermore, in collaboration with Thailand's Ministry of Defence Armament Standards Committee, the D-Iron RCV underwent rigorous live-fire assessments under both daylight and night conditions.
This robotic combat vehicle, based on the THeMIS Combat UGV platform from Milrem Robotics, was initially introduced to the public by the DTI in 2019. The D-Iron RCV now boasts an R400S-Mk2 remote weapon station provided by the Australian firm, Electro Optic Systems, and a Northrop Grumman M230LF 30mm machine gun. Moreover, the possibility of incorporating anti-tank guided missiles is being considered.
There are indications that the D-Iron RCV might be optimal for tasks such as border surveillance, reconnaissance, counter-insurgency, anti-tank operations, and logistics.
Additionally, the DTI has previously shown its commitment to unmanned technology by signing an agreement to jointly research and develop unmanned aerial systems and their countermeasures.
Internationally, Thailand's pursuits in armed robotic vehicles resonate with the technological progress seen in Europe and the US. The US Department of Defense has called for quick prototypes of robotic combat vehicles to cater to the US Army's need for a nimble, easily movable RCV. These prototypes are anticipated to be ready for an award in early 2025, with deployment and fieldwork set for 2030.
This upcoming award aims to present a semi-autonomous or remote-controlled RCV, enhancing army formation's tactical capabilities, situational awareness, and lethality. It may also serve in scouting or accompanying manned combat vehicles.
Maj. Gen. Glenn Dean, from the US Army Ground Combat Systems, emphasized the importance of technological advancements for the future army. He stated, "The 2030 Army and those that follow will bank on technological growth and advancements. The combined efforts of both traditional and unconventional business sectors are pivotal in ushering in systems that cater to the Army's evolving needs for the coming decades."