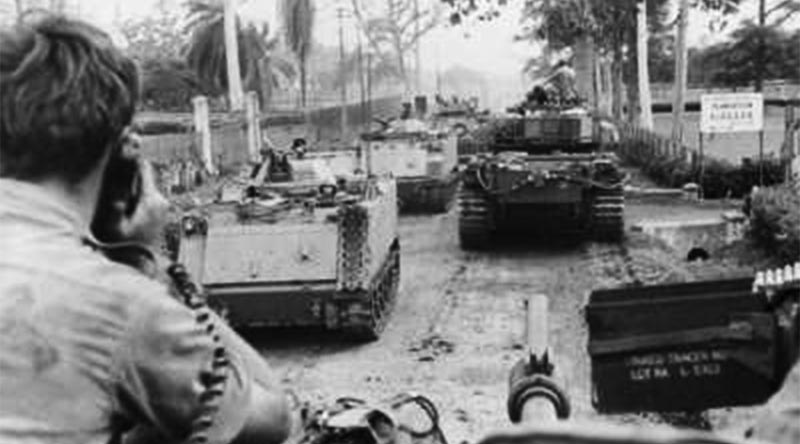 The Battle at Binh Ba – 1969
The Battle of Binh Ba was a pivotal engagement involving Australian troops during the Vietnam War. Prior to this conflict, the 1st Australian Task Force (1ATF) primarily engaged in combat in open fields or dense jungles. The clash at Binh Ba, located in Phuoc Tuy Province, South Vietnam, was against a formidable and well-equipped communist force.
In the initial days of June 1969, the 6th Battalion, the Royal Australian Regiment/New Zealand (ANZAC), newly stationed north of the 1ATF base at Nui Dat for Operation Lavarack, began facing significant numbers of North Vietnamese Army (NVA) and Viet Cong (VC) soldiers. This led to several intense firefights. By the evening of June 5, 1969, Binh Ba village was taken over by a combined communist force comprising determined and well-equipped troops.
On the morning of June 6th, a rocket-propelled grenade struck an Australian Centurion tank passing north of the village around 8 am, causing damage and injuring at least one crew member. By 10:30 am, the 1ATF initiated Operation Hammer, deploying a reduced company of 5RAR, backed by armored units and artillery, to the village. Over the next 48 hours, intense urban warfare ensued as Australian forces sought to evict the NVA and VC troops from Binh Ba.
The Aftermath: When the 1st Australian Civil Affairs Unit (1ACAU) entered Binh Ba on June 8, they were confronted with widespread destruction. One-fifth of the residences were completely ruined, and the rest bore varying damage levels. The 1ACAU was instrumental in distributing essential supplies like food and water to the locals. Additionally, they spearheaded the village's repair and rebuilding. The bulk of this reconstruction work, carried out mainly by Australian engineers, spanned a month. Notably, B Squadron, 1 Armoured Regiment took the initiative to reconstruct and reopen the village school by November.
The cost of Operation Hammer for the Australians was the tragic loss of one soldier and ten injuries. In contrast, the NVA and Viet Cong suffered significantly with 99 fatalities, a majority from the 33 NVA Regiment. Post-Operation Hammer, Australian forces, who had previously faced security threats in Binh Ba, could now traverse the village without hindrance. Their rebuilding efforts garnered appreciation from numerous villagers.
Operation Lavarack wrapped up by June 30, 1969. The 6RAR/NZ, during this operation, neutralized 102 enemy combatants. The Australian and New Zealand forces saw casualties of one and two soldiers respectively, with 29 injured.