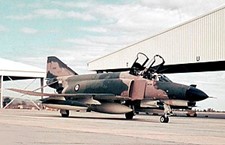 The Phantom F-4E in Australian Service
From 1970 to 1973, the Royal Australian Air Force (RAAF) utilized 24 McDonnell Douglas F-4E Phantom II fighter-bombers for ground attack missions. These planes were borrowed from the United States Air Force (USAF) due to unforeseen hold-ups in the delivery of the RAAF's 24 General Dynamics F-111C bombers. Although the F-4Es showcased notable performance, once the F-111s were in service by 1973, the Australian government declined the RAAF's suggestion to keep the Phantoms.
In 1963, during a search for a replacement for its English Electric Canberra bombers, the RAAF assessed multiple aircraft, including the F-4C Phantom II variant. However, the F-111 was the preferred choice. Yet, ongoing technical issues with the F-111 during the late 1960s prompted the RAAF to see the F-4E Phantom II as the most suitable alternative. Subsequent to the F-111 delivery setbacks, in 1970, the Australian and US Governments struck a deal allowing the RAAF to lease 24 F-4Es, along with their necessary equipment, from the USAF.
The RAAF introduced their F-4Es in September 1970. These aircraft, deployed for air-to-ground missions, significantly aided in training crews for the impending F-111 operations. Additionally, the intensive training sessions with these jets elevated the RAAF's operational expertise. Unfortunately, one Phantom met its end in a flight mishap in June 1971, while another was salvaged by the RAAF after a harsh landing caused substantial damage. By June 1973, the 23 remaining Phantoms were handed back to the USAF, with most of them later transformed into F-4G Wild Weasel versions upon their return to the US.