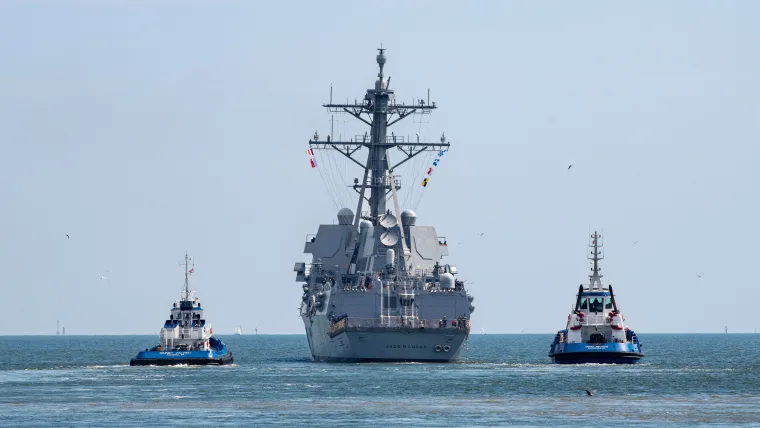 U.S. Navy's Newest Flight III DDG 51 Destroyer, Equipped with Lasers, Begins Its Journey
Currently, the U.S. Navy operates over 80 destroyers. Their fleet is expanding with the addition of over 10 advanced Flight III DDG 51s. The goal for these warships? To tackle missions such as annihilating enemy drones and jets with laser weaponry, intercepting and destroying anti-ship and ballistic missiles, disrupting enemy radar, and deploying long-range precision weapons. These are just some tasks designed for the latest Arleigh Burke-class DDG 51 Flight III Destroyers.
The first of this class, the USS Jack Lucas (DDG 125), is now sailing from Mississippi to Tampa, Florida, marking its commissioning. This vessel represents a significant evolution in naval warfare, featuring laser weapons, revolutionary long-range sensors and radar, and state-of-the-art power storage and electricity systems.
These ships aim to incorporate a host of new technological advancements, in line with the Navy's vision for a more distributed, lethal maritime warfare system. Former Chief of Naval Operations Adm. Michael Gilday emphasized the importance of quickly advancing these technologies, stating, "speed matters."
He further elaborated in the Navy's 2022 CNO NAVPLAN, "Advanced sensors, battle networks, and weapons have propelled us towards a more decentralized warfare approach… To maintain our edge, rapid deployment of top-tier systems is essential."
This acceleration is crucial, especially considering the rapid naval advancements of the People's Liberation Army – Navy.
For the most efficient integration, Navy weapon developers have been balancing swift implementation of new weapons with ensuring the use of cutting-edge technology. They're achieving this through a "modular" strategy, which uses standard IP Protocol, interfaces, and computing systems, allowing continuous tech upgrades. Such software updates have previously enhanced radar systems, weapons guidance, and other crucial technologies, further expanding combat capabilities.
A pivotal upgrade in the Navy's Block III DDG 51 is the AN/SPY-6 Air and Missile Defence Radar. This new radar system surpasses its predecessors, allowing Navy ships to detect or counteract targets with unprecedented accuracy and range. The SPY-6, in particular, is 30 times more efficient than the SPY-1D(V), as cited by the "Microwave Journal."
Moreover, Raytheon's SPY-6 radar uses Gallium Nitride (GaN), a military-grade material that's up to 1,000 times more efficient than the current Gallium Arsenide.
In practical terms, the SPY-6 radar system integrates different fire-control and detection techs, providing commanders with a more extended decision-making window during potential multi-faceted enemy attacks, including ballistic missiles, drones, and more.