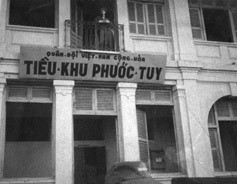 Vietnam: Fates of some former Vietnamese colleagues
You might be interested in this short item on fates of a few of our
former colleagues in Phuoc Tuy.
Best wishes
Ernie Chamberlain
PHƯỚC TUY COLLEAGUES – THEIR FATES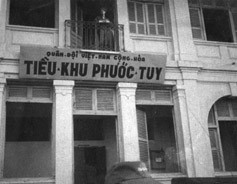 Phước Tuy Sector Headquarters (Tiểu Khu) – Bà Rịa
Many veterans might wonder what happened to senior ARVN colleagues that we served with in Phước Tuy during the Vietnam War. See the short summary below:
Lieutenant Colonel Lê Đức Đạt: Province Chief 1964-67 – one of the last Province Chiefs appointed by President Ngô Đình Diệm before Diệm's assassination on 2 December 1963. Đạt was born in Hanoi, and was a French and English speaker. Subsequently – ie after Phước Tuy, he served as 2ic of the 25th ARVN Division and then as the Commander of the 22nd ARVN Division. He committed suicide at the Battle of Tân Cảnh (Dak To) in late February 1972 as his command headquarters was over-run by the North Vietnamese Army's 2nd
Lieutenant Colonel Nguyễn Bá Trước: Province Chief from September 1967 to September 1970. Lieutenant Colonel Trước (b. 1922) was an ARVN airborne/special forces officer. As a battalion commander (major), he was earlier awarded the US Silver Star for his unit's defence against a prolonged NVA/VC attack in February 1967. During the Battle of Bà Rịa in early February 1968, he was wounded in the shoulder. In September 1970, following his service in Phước Tuy, he was posted to be the Chief of Staff (Colonel) of the 7th ARVN Division. Following the "Fall of Saigon" in 1975, he was detained by the communists and underwent re-education in a camp in Hà Nam Ninh Province (northern Vietnam) from early June 1975 until his release on 9 September 1987.  Soon after, he left Vietnam under the UNHCR's Orderly Departure Program (ODP).  Together with his wife – Cao Thị Hồng Khiêm, he reportedly joined his son's family in the Federal Republic of Germany. The ODP was created in 1979 by the UNHCR – by 1998, 623,000 had reportedly left Vietnam (about 74% went to the US, 3.1% to France – and 7.5% to Australia). On 20 October 1969, Australian Ambassador Ralph Harry handed-over Australian-gifted engineering and fire-fighting equipment to Lieutenant Colonel Nguyễn Bá Trước at a parade outside the Phước Tuy Province Headquarters – see Lieutenant Colonel Trước in the photograph at AWM PO4667.552.
Major Bùi Trọng Nghĩa; Phước Tuy Province Police Chief – from April 1969. A close associate of 1 ATF's Div Int Unit. Following the fall of the Saigon government in late April 1975, Major Nghĩa was imprisoned in communist re-education camps for 10 years. Released, he moved to France and died on 26 October 2007. In his later years, he moved to the Vietnamese diaspora community in Westminister, California.
Captain Lê Bá Trừng – OC ARVN 10 th Military Intelligence Detachment (10 MID) at Vạn Kiếp from December 1965 – to late 1968. In April 1968, Brigadier R.L. Hughes (COMD 1 ATF) submitted an Australian AF W3121 recommendation for the award of the MBE to Captain Lê Bá Trừng – see: AWM2016.747.67/document/6253254.PDF. In October 1968 – as a major, Lê Bá Trừng was appointed District Chief of Phú Vang District, Thừa Thiên Province (near Huế.). He was reportedly killed in a VC vehicle ambush in Quảng Nam Province. Captain John Bullen – OC 1 Topo Svy Tp, noted that 10 MID under Đại Uý ((Captain)) Trừng "was a real force in the land", and he "was of extremely high class for such a job ((ie OC 10 MID))" … he had been the "chief of police in Đà Nãng … survived three mine or grenade explosions, one of which cost him the sight in his right eye. … a true patriot. … he had backed the wrong coup two or three coups ago and sent to Van Kiep for a few years' penance while his contemporaries rose to the ranks of colonel and general. However, it seems now that Trung has been forgiven and is on the way up again." See: Bullen J. and Ham P. (Ed), Captain Bullen's War, 2009, p.244, p.284.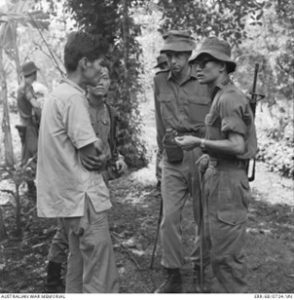 Questioning a VC suspect – Hòa Long village, 5 August 1968  AWM ERR/68/0724/VN.
Captain Geoff Boscoe – centre, ARVN Captain Lê Bá Trừng (OC 10 MID) – right.
Captain/Major Huỳnh Bá Phụng – OC ARVN 10th Military Intelligence Detachment (10 MID at Vạn Kiếp from mid-1968; 10 MID personnel were integrated into Det 1 Div Int Unit at Núi Đất. In 1972, Captain Phụng was posted to a staff position in Saigon as a major. Detained after the fall of Saigon in April 1975, he was imprisoned in the North until 1982 – and "migrated" to Australia (Brisbane) in the early 1980s (greeted by three former OCs Det 1 Div Int Unit (ie: Jack L'Epagniol, Stan Bryant, and Alan Cunningham). Phụng remains active in Vietnamese-Australian associations and in the print media.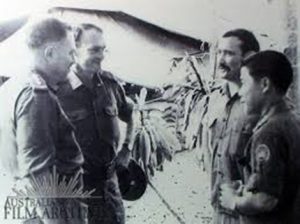 Acorn Intelligence Operations discussions at HQ 1 ATF Núi Đất – 1970
Left to right: Colonel J.G. Hooton – Commander 1 ALSG (former DMI-A); Brigadier S.P. Weir – Commander 1 ATF; Captain A.L. Cunningham – OC Det 1 Div Int Unit;
Captain Huỳnh Bá Phụng – OC 10 MID.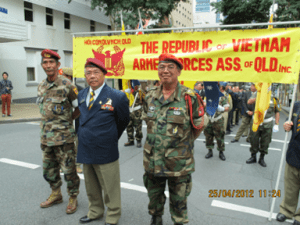 Huỳnh Bá Phụng and RVNAF veteran colleagues – Anzac Day Brisbane – 2012